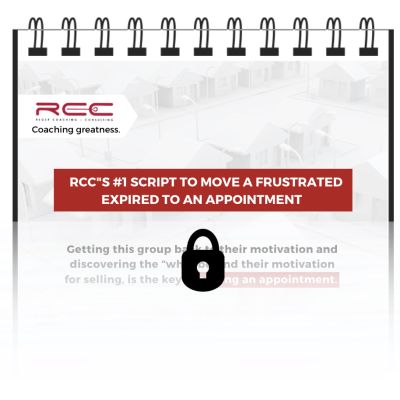 RCC's #1 Script to Move a Frustrated Expired to an Appointment
This is the #1 way to generate more business right now and start 2023 on the right foot. We call this the ultimate low hanging fruit to win in today's market. This download includes the exact script we use to set the appointment and get an abundance of listings. This exact strategy was used by a new coaching client to secure a $1.2million dollar listing within her first few calls – it can work for you too!
"*" indicates required fields
Interested in future webinars?

Register for our next webinar to receive the next download!

My #1 Online Lead Conversion Strategy

RCC Co-founder Craig Reger and Joe Fox, RCC coaching client and owner of Fox and Fogarty, are coming to you live for an in depth webinar on online lead conversion strategies that work in today's market. Learn how to maximize your online lead conversion at an extremely high level. This is the #1 way to convert more business derived from online lead sources right now. We call this the #1 online lead conversion strategy for 2023.