A New Market Requires a New Approach
Our world is changing at a break-neck speed and top producers know it's more critical than ever to have a strategic and nimble business plan. This series delivers the practical tools and strategies you need to create your own customized "playbook." Whether you are newly licensed or at the top of your MLS , this class will help you rediscover your Big Why, crystalize your vision, create a winning strategy, and implement effective processes with the best people by your side. Like any professional sports team, you'll be ready to run your plays to win, and have the tools to make smart adjustments along the way. It's time to make your vision a reality!
10 DAY BUSINESS PLANNING MASTERCLASS
Led by the industry's most experienced and effective coaches, who closed a combined total of over $1Billion in sales volume last year, this online class is highly interactive, and value-packed. It's time to make your vision a reality and jumpstart your business to set up your best year yet!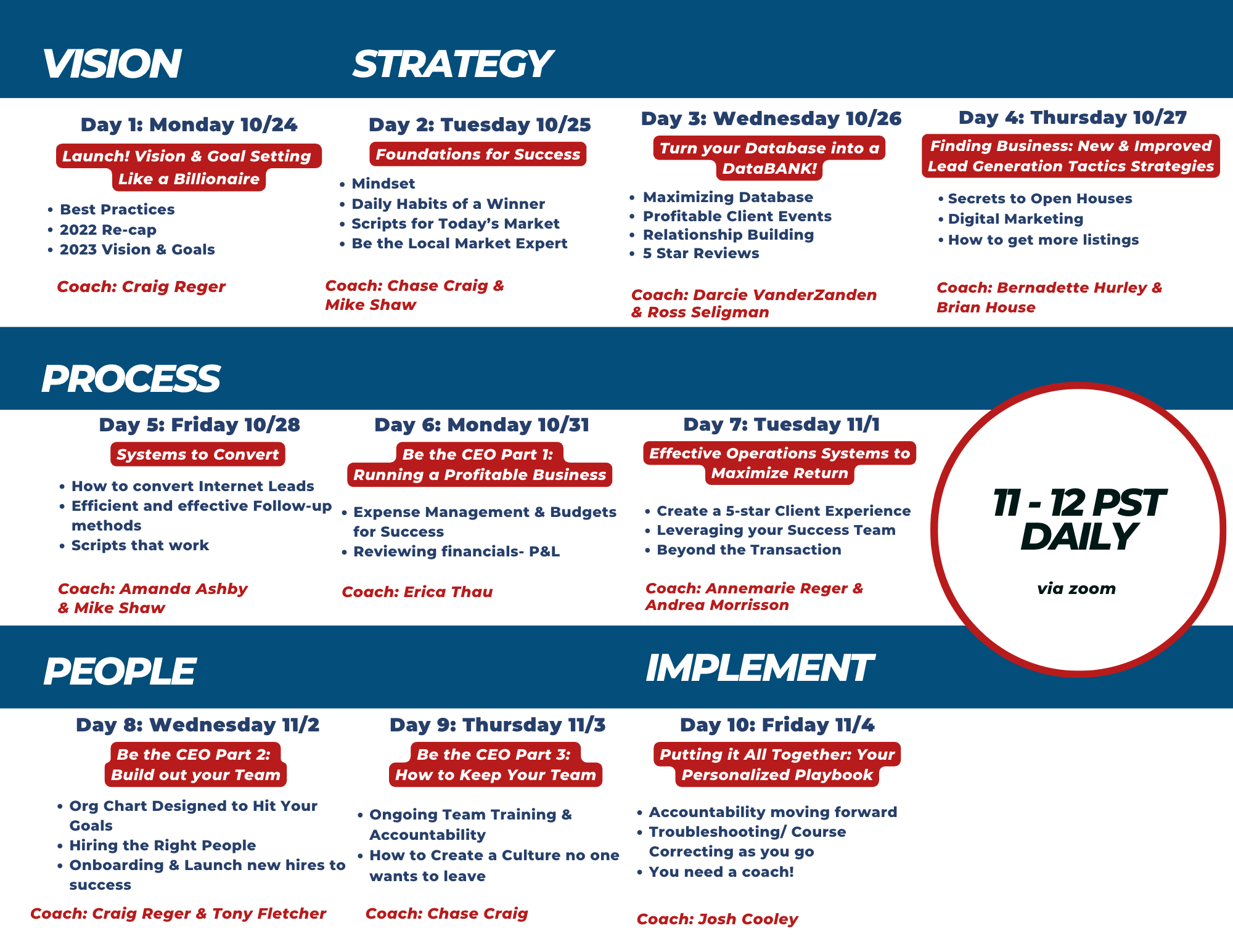 SCHEDULE
October 24th - November 4th
11 am - 12 pm PST
Variety of topics over 10 classes
class's topic schedule above...
YOUR INSTRUCTORS
Chase Craig

Owns & operates a top producing mega team
Sold over 3,500 homes to date
Named top 30 under 30 by NAR
Actively selling real estate TODAY
Nationally recognized business coach & instructor of RCC's 'GRIT'
Craig Reger

Owner & Founder of 'The Reger Group' a top producing real estate team in Oregon
Nationally recognized business coach and founder of Reger Coaching & Consulting
As previous KW franchise owner, led agents to close over $2 billion in sales volume a year
Nearly 3 decades in the industry, closing over 5,000 homes to date
Creator of the trend-setting coaching class "90 Listings in 90 Days"
Andrea Morrisson
Sold 142 homes in one year as a team member
Thousands of transactions closed through 12+ years in the industry
Over 7 years of real estate coaching experience with an emphasis on efficient and effective business operations
Experience as the Managing Broker, Director of Sales & Operations at 'The Reger Group'
Darcie VanderZanden
Over 2 decades of mentoring and leadership experience 
Owns & runs a top producing real estate team as a referral based business
Specializes in relationship building and maximizing database business
Bernadette Hurley
Top 1% of Real Estate agents in the Houston, TX market

Team produces $50 million annually

Experience in sales, lead generation, team building, database, working with builders, management, and leadership coaching
Amanda Ashby
Top agent on Craig Reger's personal sales team 'The Reger Group' closing $50 million in sales volume annually
Actively utilizing systems and leverage to create a big business as a team member
Coaches teams and individuals on maximizing conversion of online leads
Annemarie Reger
Co-owner of 'The Reger Group'
Specializes in operations: listings, database, number tracking, training, goal setting, and accountability in real estate teams 
10 years of coaching experience with an emphasis on client care, efficient and scalable operations and high achieving accountability
Erica Thau
As a team leader, led her agents to #1 in all categories with over 25% market share in the local market
Led her agents to close over 1400 homes and $450 million in sales volume in a single year.
Over 13 years as a coach specializing in running a profitable real estate business
Passionate in helping mega agents and broker/owners grow large scale teams with systems, models and leverage.
Josh Cooley
Top 5% of agents in Eugene, OR
Owns and operates a top producing real estate team in Oregon
Coaches agents closing 40 to 700 homes per year, whether independent or large teams - helping each to think like champions and win
Head coach at Reger Coaching & Consulting