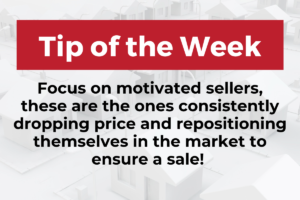 Are you sharing with your database, clients, family, and friends that 50% of the sellers are saying "sell my home now!" Market by market from starter homes to luxury there are 2 distinctly different sellers creating 2 distinctly different markets.
Seller #1 lists their home, receives few showings, no offers and refuses to reduce price.
Seller #2 lists their home, and makes immediate and consistent adjustments to price and condition in order to attract an offer and sell.
Guide your buyers to understand these 2 types of sellers. Seller #1 *may* accept a lower offer creating a deal for your buyer but chances are if they were willing to they would have just lowered their price to attract more buyers. Seller #2 is motivated and wants to sell, they've clearly shown this with the multiple price reductions- you can get your buyers a great deal, and a smooth transaction. Use this market knowledge and the "tale of the 2 markets" to attract buyers and/or to turn your "B" motivation buyers into "A" motivation buyers.
On the flip side, as a listing agent… you want to seek out the Seller #2 and work with such sellers as they are motivated and will sell. Seller #1 is not motivated, will expect you to do extra marketing, extra open houses, etc. and blame you for the lack of sale while Seller #2 will be grateful for your efforts, listen to you, and adjust to what the market tells them in order to sell.
The market is split nearly 50/50 with these two types of sellers. Do your research, learn what your market is doing, confidently explain it to clients and show them how to win in this market, how to be part of the percentage that transacts and takes advantage of where the market currently is. Not only is it your duty and job to represent your clients with expertise and knowledge… it's a whole lot easier as the motivated will listen and step up creating the business you are looking for.