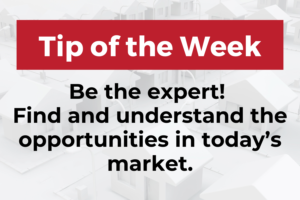 What's happening in your local market? Are sales up? Inventory? Multiple offers?
Once you know the answer,  you can use that data to show clients why January can be such a great time to buy or sell.
The interest rate conversation
What was a big topic just a few months ago is now becoming just another part of buying a house. Interest rates were all the talk as they quickly crept up from what was previously a ridiculous low rate. The rate conversation has now normalized and buyers have begun accepting it as it is. Most have done away with "waiting for it to come down" and it is much less of a hindrance. Be sure you too are not putting unneeded stress on interest rates.
The "waiting till spring" conversation
Following up with listing leads that went silent over the holidays and hearing the "we will be ready to list in spring" objection? This is because most people, even many agents, believe spring is the best time to sell. This simply isn't true. January is actually a far better time. Why? Because buyers slow down tremendously over the holiday season. Which means there is pent up demand going back nearly a month and half (thanksgiving through the new year) that paused searching till now. Plus you have the normal January buyer crowd. On top of that, with rates finally being accepted as normal, even more buyers are jumping off the fence. And what about the selling myth of "waiting till spring" mentality – that alone keeps the competition at bay. So a seller that goes on now has everything working in their favor with much less competition.
The multiple offer conversation
Multiple offers are coming up again in many areas due to all the above mentioned: pent up buyer demand, accepting rates, low inventory as sellers "wait till spring." Another reason to know your market – get your sellers listed and your buyers in tune with what they may be facing and how you can help them navigate the market. Be the expert – you won't lose buyers over this conversation, instead you will show you are truly an expert, an expert they feel confident in working with to achieve their real estate goals.
The sitting listing conversation
If you have a listing that is sitting, perhaps it sat through the holidays, or went on the market after the new year and isn't getting much traffic. Re-evaluate price and condition. It isn't going to get better for the seller – they need to adjust to where the market and buyers are now. On the other side, buyers should be making aggressive offers on any sitting listing. It is clearly overpriced and if the seller is motivated they will work with the buyer to come to an agreement. Help your buyers feel the win they can get in this market.
All of the above boils down to simply knowing the market, scripting out how the market effects buyers and sellers in different ways and focusing on the opportunities. With these simple tactics, you will be an expert and motivated clients will transact with you and refer you business.
Looking for a coach to help you find the opportunities in your market and hold you accountable? CONTACT US today to learn more!