While we hope you are systematically and consistently staying in touch with your database (sphere, past clients, current clients and leads), what to send or say can sometimes feel challenging. Well, we did the hard work for you! Simply switch out the info below with your local stats/information and you have a message that will immediately attract listings to you.
As you start to hear in the media that home sales are slowing, keep in mind that doesn't mean you've lost all the equity you've built through years of owning. Houses are still selling! And sellers are still making a ton of money off their investments. How long have you owned your home? You may be sitting on a pot of cash! Check out these recent stats from some nearby neighborhoods: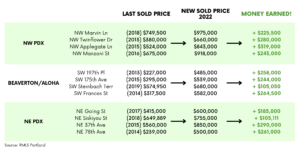 If you're curious how much your home is worth in today's market, we're happy to run some quick numbers for you. It might make sense to look at selling now before this market slips away.  Let us know how we can help!