Most markets around the country are experiencing a big change in real estate. But just how big of a change is it? And how do you communicate that to your leads, database, and clients so they understand exactly what we are dealing with? As an agent it's simple – look at your market numbers today and compare them to the past market. Then explain it! Below is a touch (just swap out the numbers & chart with your markets specific stats) to send to your database AND take key pieces of it to have real conversations with buyers and sellers today.
Happy Summer!
As expected due to rising interest rates and inflation our real estate market has definitely changed. Let me break it down:
Buyer motivation is down significantly as evidenced by what's happening with listings. Looking at SW Portland alone, there are currently over 500 homes for sale and just 6 months ago there were only 161. Price reductions (sellers needing to lower their asking price) have almost doubled when compared to this time last year. Listings are sitting longer, with far fewer showings, so sellers have to adjust. Sales are significantly down across the board. 
What does this mean? Buyers are starting to have options again, and with more inventory and far less buyer competition they are often winning homes at or below asking price- this was unheard of even just a few weeks ago. The days of having to waive every contingency, offer tens of thousands above asking price, and give away their first born child (joking) may be over.  Even with rising rates, this more reasonable climate for buyers is encouraging many who jumped out of the market to come back and start looking again. 
Sellers- you still remain in the driver's seat.  The market hasn't gone backwards yet, inventory is still extremely low so if you've got a good house, in a desirable area, you will sell!  The good news is you have likely made A LOT of money if you've owned your home for 2+ years. While you may not get the pie in the sky sales price your neighbor got 6 months ago, you will likely make a great return if you sell now. I don't know how true this will be 6 months from now as so much will depend on economic conditions and what happens with buyer demand. If you have even thought of making a move in the next couple of years– let's set up a meeting today to strategize what makes sense for your situation. 
Check out more numbers below comparing what's been happening in all of Portland Metro for the past 3 weeks vs. 2021.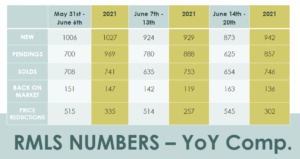 As always, please let me know if you have any questions about the market or your personal situation. Wishing you a safe and fun summer!